RELIABLY MAN: CUSTOMISED SOLUTIONS ON A STRONG FOUNDATION
High-quality bus chassis for all requirements and deployment purposes provide the optimal flexibility to assert yourself on the market with your own ideas. Proven MAN quality always ensures a solid foundation for your success. Our body-friendly chassis provide you with maximum possibilities and meet all your expectations when it comes to innovation and power, dynamics and comfort, cost-efficiency and environmental friendliness.
No matter what you need, MAN has the solution. With their limitless versatility, the MAN Bus chassis can easily meet all requirements. Suitable for every application, every destination, every country and every demand – there are no limits to your imagination when it comes to design. Whether you use the chassis as a powerful foundation for city and scheduled-service intercity buses or for coaches, you will be impressed by the comprehensive body compatibility and MAN's high quality.
COMPONENTS WHICH PROVIDE RELIABILITY AND EFFICIENCY
Reliable in every situation
MAN Bus chassis provide maximum safety on every journey due to its numerous and cutting-edge safety assistance systems:
Electronic Stability Program (ESP)
Electronic Brake System (EBS)
MAN BrakeMatic® with brake control and cruise control
Emergency Brake Assist (EBA)
Lane Guard System (LGS)
Adaptive Cruise Control (ACC)
Both powerful and environmentally friendly
The MAN Bus chassis impress with a highly efficient driveline and fuel-efficient assistance systems. With all common rail engine variants from 240 hp up to 500 hp, MAN has a powerful and extremely clean engine portfolio available, which can be flexibly used in all areas of deployment within cities, the countryside and on longer journeys. Alongside the diesel engines, MAN also offers particularly environmentally friendly and powerful natural gas engines for the city bus chassis.
Optimised shift strategies, as well as newly developed gearbox software for automated manual transmission and fully automatic gearboxes, also have a positive effect on fuel consumption. You can benefit from the GPS-supported MAN EfficientCruise cruise control together with EfficientRoll when using the coach chassis with MAN TipMatic as it intervenes pre-emptively during gear selection and also activates the rolling function, resulting in additional fuel saving.
COMFORT WITH CERTAINTY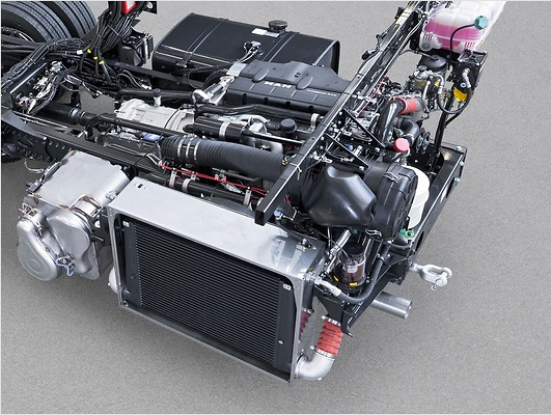 Intelligent gearboxes
MAN has two gearboxes for you to choose between. They increase driving comfort and also save fuel – perfect for driving through the city and travelling across the country.
The automatic gearbox – for 250 hp up to 460 hp – impresses with improved gear-change quality and a new low-friction oil with optimized viscosity, resulting in gentle, quiet gearshifts. Fuel consumption is also reduced considerably thanks to improved retarder output.
The new MAN TipMatic – for 420 hp up to 500 hp – ensures a lower level of inside noise and reduced fuel consumption with an axle ratio of i=2.73. Fast, comfortable gearshifts are possible thanks to Smartshift.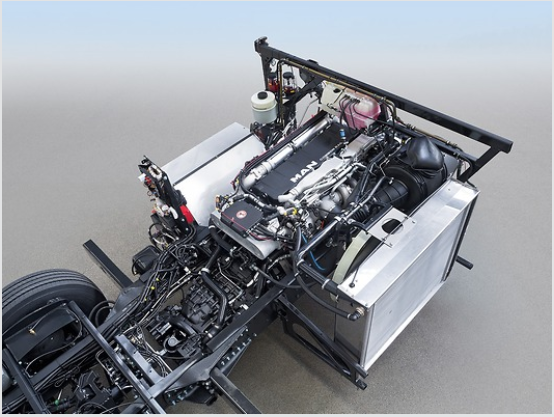 First-class driving comfort
The modern MAN axles provide the highest level of driving comfort which can be immediately felt by both driver and passengers. Whether rigid axle or independent front suspension: both axle types impress during the first few meters and will please the driver when maneuvering with small turning circles.
Thanks to the excellent suspension, even during long journeys, back pain is a thing of the past, and the high ease of maintenance ensures greater convenience.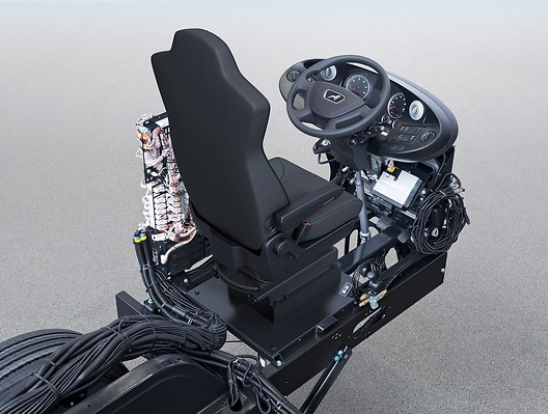 Cool ideas
The fold-out intercooler stands out with its high level of reliability and cleverly conceived design; it not only allows good accessibility to all the important areas at all times, but is also easy to maintain and is user-friendly. The engine is always reliably cooled by the easy-to-clean intercooler. This significantly increases the service life of the engine, meaning both the engine and the technician can stay cool.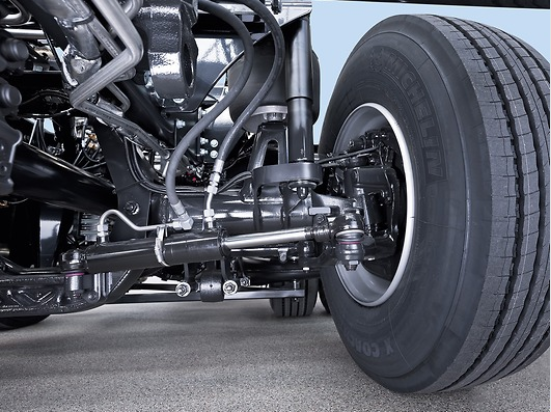 Ergonomic design
MAN chassis always provide their drivers with a practical, ergonomic and appealing place to work. All the key information can be seen at a glance on the instrument panel, and the optimized switch layout improves user ergonomics. A continuously adjustable multi-function steering wheel also ensures a relaxed working environment.