MAN Genuine Parts are always the first choice.
Whoever opts for MAN, chooses excellent quality. So, why should you be satisfied with less when it comes to replacement parts? MAN Genuine Parts guarantee that your always choose premium quality. They are manufactured in accordance with MAN guidelines and inspected carefully to ensure that they comply with our strict quality standards. They also guarantee maximum reliability and economy. Furthermore, they come with a 24-month warranty that is valid worldwide. That is quality you can count on.
Parts logistics just in time.
To keep downtimes as short as possible in the event of damage, an average of over 8,000 genuine parts are in stock in MAN service centers – also for older models and special vehicles. 95% of all unavailable special parts are quickly supplied overnight by the European Logistic Center (ELC) established by MAN. Optimum logistics processes mean you profit from improved order acceptance and delivery times, as well as shorter downtimes in workshops.
The benefits:
State-of-the-art MAN Genuine Parts
MAN quality thanks to latest technology
Worldwide Genuine Parts warranty
Parts stocked for all MAN vehicle models – also for older models and special vehicles
Parts supplied overnight by the European Logistic Center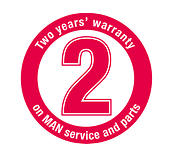 2 year warranty for MAN service and parts
From 2017, MAN Truck & Bus SE's 2 year warranty applies to all repairs carried out1in MAN service outlets,2 and includes original MAN parts installed during repairs, original MAN ecoline parts and original MAN accessories. The service level is identical to the previously existing one year warranty that has been applicable until now. Additional information can be found in our General Terms and Conditions.
1 See validity of the General Terms and Conditions.
2 MAN-specific service partners and participating partners.